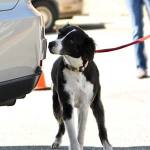 Nose Work is the latest recreational sport that is fast growing in popularity with pet owners and dog sport enthusiasts. Many pet dogs today were bred to work for their human companions as retrievers, guards, or managing livestock. The fact is that these dogs need a job to do, if not they can become "self employed"; often in ways we'd rather they not-barking, digging, chewing.
Some of the benefits of nose work are:
Low impact exercise-senior and physically challenged dogs can be safely exercised.
Powerful mental stimulation and enrichment = one truly exhausted dog, less energy for trouble making.
Time saver-cuts back on the amount of time needed to tire your dog. A 15 minute session of scenting can equate to a 4 mile mountain hike!
Minimal cost to get started, no expensive equipment necessary.
Regularly recommended in combination with other behavior modification in dogs with environmental sensitivities, fear of people, dog reactivity, and anxiety.
In Nose Work, dogs are taught to locate a target odor in four different elements mimicking professional detection dogs. Since all dogs are equipped with an incredible ability to smell, this fun activity is perfectly suited to smaller breeds and older dogs, in addition to the working breeds.
No one is more passionate about nose work than Allison, and it shows. She has been teaching nose work to pet dogs and their people since 2011, and regularly attends advanced scent work education. She's an experienced nose work competitor, titling her shy rescue mixed-breed dog at K9 Nose Work levels NW1, NW2 & NW3, and her students are successfully competing and titling at the top levels. Allison doesn't believe in any one system and adapts her methodology to the most effective style based on her assessment of the handler and dog team. Check out her scent work education and experience on our About Us page.  Whether your goals are achieving titles, building your dog's confidence, or to just have a fun and bonding experience with your dog, Foothills Canine Academy classes or privates will get you there. We are the source for all things Nose Work in the Upstate!
Contact us to register for class and join the fun.
Nose Work Class Schedule
Nose Work Foundations Class
This class will focus on building a strong foundation of skills for dog and handler. For shy dogs, we will help build their confidence and enthusiasm for the hunt. For others, we'll introduce them to the competition odors of Birch, Anise and Clove. Class is 6 sessions for $160 and includes a starter odor kit (instructor Allison Andrews, CPDT-KA). There are no make up classes. 
GREENVILLE: Thursdays 6:30PM. Class begins 9/14-10/19. Location: 726 Lowndes Hill Rd., Greenville, SC. Register now to be notified of our next classes starting in January.
ASHEVILLE: Sundays @ 3pm and 4:30pm. 10/8-11/5. No class 10/15. This 4 week class costs $110.00, and includes starter odor (if appropriate).  Current class is FULL. To sign up for the wait list for future classes: Asheville Registration.
Nose Work Intermediate Classes.
For teams preparing for NW1-NW3. These classes are 6-sessions. Cost: $160.
Monday 6:30PM. Class begins 9/11-10/30 (No Class 10/2, 10/16). FULL.
Tuesday 4:30PM. Class begins 9/12-10/17. FULL.
Tuesday 6:30PM. Class begins 9/12-10/17.
---
Special Sessions.
For teams preparing for NW1-NW3. Advanced registration required. Because classes might be held in public locations, sessions might not be appropriate for some dogs.
SEARCH SESSIONS. Trial type searches, blind hides with instructor feedback after each search.
Sunday 11/12 3:00PM. VEHICLES. $25
Sunday 12/10 3:00PM. EXTERIORS. $25 
---
INTERIORS WORKSHOP. Held at a camp location, this will be a full day of working interior searches. We will work aged hides including: Thresholds, converging odor and BLANK rooms! There will be Novice and Advanced levels.
TBD. Cost: $90-130, lunch and snacks included.
---
TOPICS CLASSES. These will be 3 sessions, covering a specific trial related topic. Appropriate for anyone thinking of competing, and who'd dogs are working at the first levels and up. Each class will include lecture, practice and searches. Cost: $80.
Trial Success Strategies: How to set your dog up for searching success with support throughout the trial day.  Class will cover start line routines, reward routines, and how to handle long wait periods between searches. Perfect for dogs that get overwhelmed or stressed by the trial environment, can't stand waiting, or get too worked up and over aroused. Mondays 6:30pm: 11/13, 11/20, 12/11.
Let's Get Focused! Is your dog focused and ready to search, or are they more focused on the environment? Class will cover how to get your dog focused in new environments (this works great for leash walking too!), how to know if your dog is on the same page as you, and how to get your dog more engaged and excited about going to "work". Dogs will work out of their car. Tuesdays 6:30pm: 11/7, 11/14, 12/12.
---
Nose Work Privates. 
We now have private sessions available weekdays and some weekends at our Greenville location. One 1/2 hour session is $50 for one dog. Semi-privates, 2 or more dogs-$75/hour. This time does not include initial set up (of hides), but does include any resetting of hides.
Check out some of our students having fun with Nose Work: