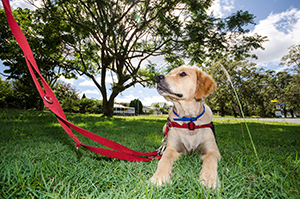 Convenient solutions for inconvenient problems. Our one on one in-home training will bring the help right to you, where you need it most. Allison is a Certified Professional Dog Trainer providing a specialized training program for both your dog and family's individual needs. All training will directly relate to real world situations, and Allison will show you how your training sessions can easily be incorporated into everyday life.
Contact us for real world solutions for you and your dog. A great canine companion awaits!
Just some of the training problems Foothills Canine Academy programs can address:
Manners and obedience
House training, potty training, chewing
Jumping up on you or guests
Counter surfing
Resource guarding aggression
Pulling on leash
Separation anxiety
Shyness or fears
Coming when called

Puppy Socialization and Puppy Training

For puppies under 20 weeks, check out our Puppy Training Programs.
Nose Work Training
Looking for a fun activity to do with your dog? Have a shy dog that needs some confidence? Have a rowdy pup that you can't seem to tire out? Check out our Nose Work Classes going on now.

Group Training Classes
In-home training vs. group class for obedience training or problem behaviors:  If you were going to learn how to play the piano, would you choose a quiet place like your living room, or a busy mall? For this reason, most people find training in a group class setting surrounded by other dogs and people frustrating and difficult. Dogs are the same way, they learn best with less distractions and it's much easier and quicker for your dog to learn in the home. What a dog learns in one place doesn't translate to behavior in another. Since your dog spends the majority of their time in your home, that's where we want to do the training. Alternately, most people have trouble relating the training to everyday situations. Our in-home privates focus on directly relating the training to your real world settings. Your training goals will be reached faster, making better use of your time and money. And when it's time to add distractions, we can take it on the road for real world difficulties.
FCA offers in-home services to Greenville, Simpsonville, Fountain Inn, Travelers Rest, Taylors, Greer and other nearby cities.